How can you get glasses that are affordable yet chic?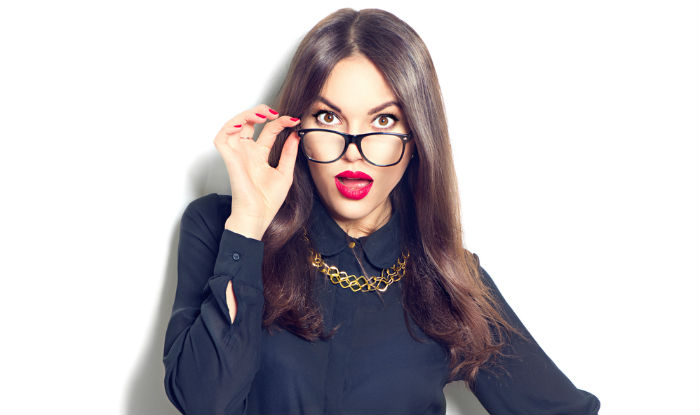 Gone are the days when prescription glasses were only worn by geeks! They have become an essential fashion accessory and every seems to be styling one for various reasons of their own!
Earlier we found glasses in basic shapes and colours as the ones wearing them were often labelled as the ''goody good" or "boy next door" more so nerdy!
While there are still some who prefer the conventional style of glasses and like that the look oh so serious there are some who wish to experiment with different frame styles.
Now having a prescription is one thing but wearing glasses without a prescription is another. Some style zero numbered glasses for driving or using the computer, while some to complete the outfit they are wearing.
Knowing the changing landscape of eyewear, designers are creatively making frame shapes and styles in various colours, textures and combination of metal.
There are so many options to choose from and so many frames you can own in your optical wardrobe from rimless, semi rimmed and full rimmed in mens and womens glasses.
In the world where everyone is donning designer labels you wonder if you could too own more than one pair that is economical yet fashionable.
We at optically.co.nz have compiled for you latest designer collection that is affordable yet chic for you to style your eyes in vogue and strut in style.
1) Round glasses are retro inspired and modern in outlook, these frames in black with grey temples is a classic pick for the chic avatar.
2) Experiment with texture in rounded cat-eye in blue to make a subtle statement while accentuating your features at best.
3) Tortoise shell is an all time favourite texture that suits every skin tone and face type when its in oversized glasses. These can be your never go wrong pair.
4) Vintage and timeless, the brow bar and key hole nose bridge in round glasses is elegant and classy to style any outfit in your wardrobe.
5) Clear glasses are making a comeback and going for them in these cat-eye shape with tortoise shell glasses is glamorous yet minimal.
6) Black is an all time favourite pick for a sophisticated look regardless of the occassion or event. These oversized square glasses are simple yet trendy.
7) John Lennon inspired round glasses in thin metal is creating havoc in the fashion arena, very light, easy to carry and minimalistic in nature.